Réinterpretation de la traditionnel bague defiançailles Marguerite
Revisited in contemporary fashion, the flower ring becomes timeless and is adorned with new shades of pink and green tourmalines that are 100% traceable. 
Its beautifully oval-shaped heart is fringed with a vibrant fantasy of garnets and multicolored spinels.
Hidden under its pistil of fine stones, a secret golden heart, crowned by a double band of small openwork hearts, lets the light shine further magnifying the shimmer of the tourmalines.
The wrought heart acts as a talisman that would always protect, a token of love on the skin.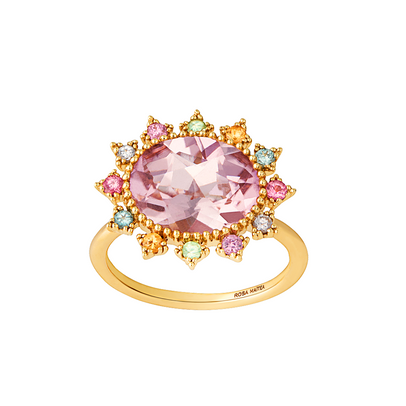 LA FAVORITE PINK TOURMALINE RING
Or recyclé 18 carats, tourmaline de Namibie, grenats et spinelles de Tanzanie
3.500€
LA FAVORITE GREEN TOURMALINE RING
Or recyclé 18 carats, tourmaline de Namibie, grenats et spinelles de Tanzanie
3.500€
OUR SHOWROOM « SPREAD LOVE »
NOUS VOUS ACCUEILLONS DANS NOTRE SHOWROOM AVEC JOIE